The DOJ Witch Hunt against President Trump never ends!
U.S. Attorney Merrick Garland on Friday appointed special counsel for two criminal investigations by the Department of Justice of President Trump.
Garland named former federal prosecutor Jack Smith as special counsel three days after Trump announced his 2024 presidential run.
AG Merrick Garland Appoints Special Counsel For DOJ Criminal Investigations of President Trump
"One investigation that Smith will handle is currently looking into whether any person, including Trump, unlawfully interfered with the transfer of presidential power following the 2020 election, or the certification of the Electoral College vote in President Joe Biden's favor on Jan. 6, 2021," CNBC reported.
"The other DOJ probe is focused on whether Trump broke the law and obstructed justice in connection with his removal of hundreds of documents from the White House, which were shipped to his residence at Mar-a-Lago club in Palm Beach, Florida."
Jack Smith is the special prosecutor who will help determine whether or not Trump should be indicted.
JUST AS WE PREDICTED: Special Prosecutor Appointed To Go After Trump!
However, Smith's bias should be questioned due to his wife's alleged connections to Joe Biden and the Obama family.
National File explains:
FEC data has revealed Smith's wife, Katy Chevigny, donated to Joe Biden's 2020 presidential campaign.

Additionally, Chevigny is listed as a producer on Michelle Obama's documentary, Becoming, which was released in May of this year.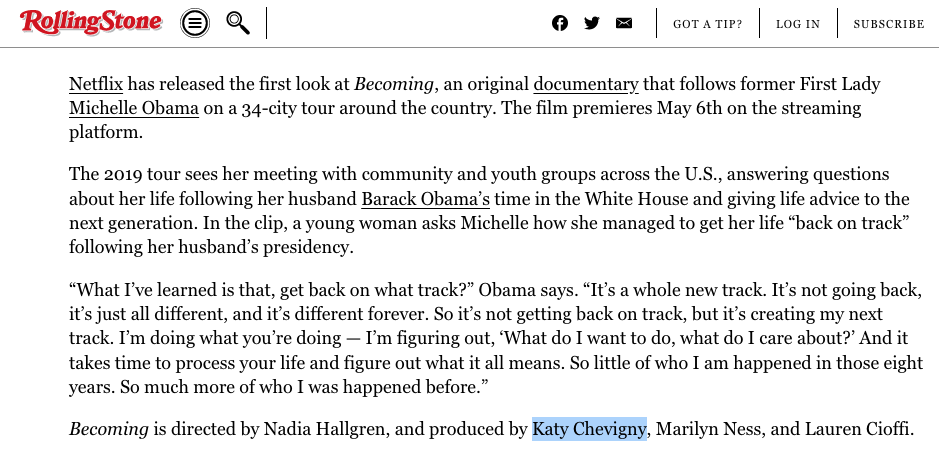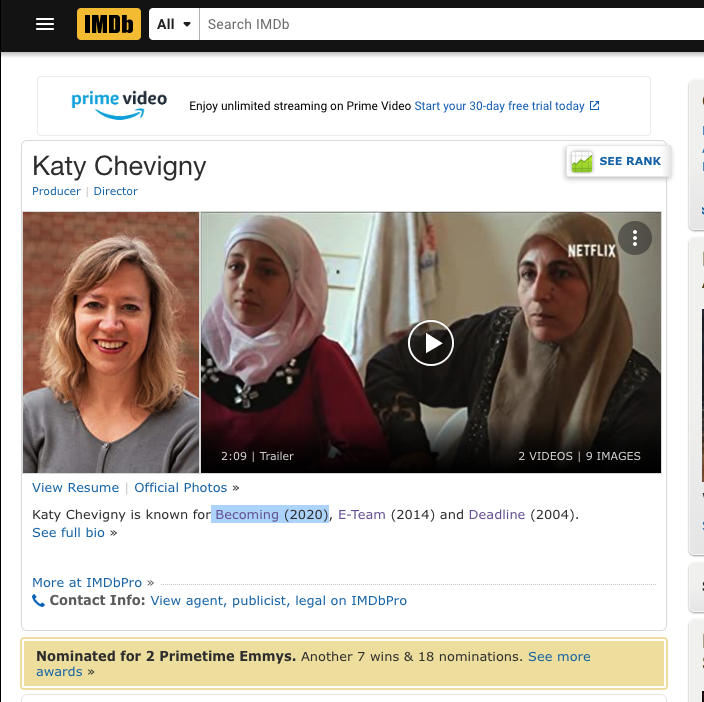 *Images from National File*
You just can't make this stuff up.

Katy Chevigny, wife of Jack Smith—the special counsel appointed by DOJ to go after President Trump, donated to Joe Biden's campaign and produced Michelle Obama's documentary.

America cannot stand with a corrupt, two-tiered justice system.

— Rep. Andrew Clyde (@Rep_Clyde) November 21, 2022
🚨The wife of Jack Smith, special prosecutor in the latest Democrat witch-hunt on President Trump, Katy Chevigny Smith was a major donor to Sleepy Joe Biden. 🚨 pic.twitter.com/8KExlaTTcU

— Bruce Porter Jr.  (@NetworksManager) November 21, 2022
From Wikipedia:
Two films she co-produced have been nominated for an Emmy, in 2020 Becoming
cont.
In July 2011, she married Jack Smith, a prosecutor working for the U.S. Department of Justice.
Cont. from National File:
Attorney general Merrick Garland touted Chevigny's husband as a "veteran career prosecutor" who is authorized "to prosecute any federal crimes that may arise from [his] investigations."

"I signed an order appointing Jack Smith to serve as Special Counsel. The order authorizes him to continue the ongoing investigation into both of the matters that I've just described, and to prosecute any federal crimes that may arise from those investigations. Mr. Smith is a veteran career prosecutor," Garland said Friday.

Smith will be over see these two criminal investigations: "The first is the investigation, as described in court filings in the District of Columbia, into whether any person or entity unlawfully interfered with the transfer of power following the 2020 presidential election or the certification of the Electoral College vote held on or about January 6, 2021. The second is the ongoing investigation involving classified documents and other presidential records, as well as the possible obstruction of that investigation, referenced and described in court filings submitted in a pending matter in the Southern District of Florida."