Will the CDC or the FDA ever investigate the catastrophic health impacts of the COVID-19 injections?
No, they will not!
Both agencies are captured by Big Pharma and operate as the financial arms for Pfizer, Moderna, Johnson & Johnson, etc.
For example, the CDC admitted in a FOIA request that they turned a blind eye to VAERS safety signals for the COVID-19 jab.
FOIA Request Reveals CDC Did NOT Monitor VAERS for COVID-19 Jab Safety Signals
In addition to the VAERS data, young and healthy individuals dying in their sleep is an obvious indicator something is wrong.
But the corrupt agencies won't lift a finger to investigate.
Steve Kirsch touched on the latest 'sudden deaths' in his Substack: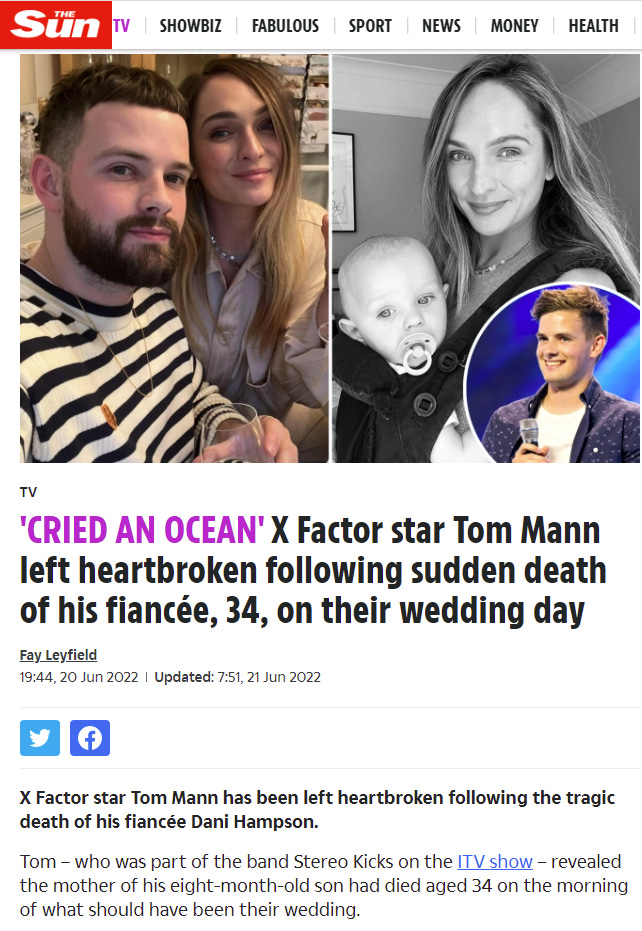 The ink hadn't even dried on my story on the death on June 12 of a healthy young teenager, 17-year-old Gwen Casten, who died in her sleep when I read this article about another high-profile vaccine-related death of a healthy 34-year-old who also apparently died in her sleep on Jun 20, 2022, just 8 days after Gwen Casten died.

IMPORTANT NOTE: The cause of Dani Hampson's death has not been revealed but how does someone die in the very early hours of the morning you are going to be married? It's most likely she died in her sleep.

However, the rest of this article still applies even if it is later discovered she died from something else.

Isn't it odd that nowadays, when people die, there isn't a cause? Have you noticed the pattern too as noted in this tweet?

Just 8 days between these two "black swan events."

No doubt this trend will continue as I pointed out in my earlier article that these are not isolated cases at all. All the dead healthy young people who died in their sleep were all vaccinated with the COVID vaccines. That's the one thing they all have in common.

So we now have 8 black swans this year, and none that I'm aware of before that (and I'm 65 years old).

Fortunately for the vaccine makers, no health authority in the world is investigating these deaths because healthy young people dying in their sleep is the new normal.
Kirsch noted the new term, "Sudden Adult Death Syndrome," to describe this disgusting 'new normal' of 'sudden deaths' in young people.
Did anyone ever hear that term used before 2021?
I never heard anyone discuss SADs until the COVID-19 jab rollout.
And now it's supposed to be normal?
I'll never accept it.
Kirsch listed these tragedies that have all occurred in young, healthy individuals.
https://kiisfm.iheart.com/content/2022-06-11-tributes-pour-out-for-tiktok-star-cooper-noriega-after-sudden-death/

https://www.msn.com/en-us/news/us/bayside-high-student-athlete-dies-after-collapsing-during-conditioning-virginia-beach-officials-say/ar-AAYgQpd

https://www.wymt.com/2022/06/09/visitation-breathitt-county-football-player-announced/

https://dailystandard.com/archive/2022-06-03/obituaries/18750/tyler-mescher

https://connecticut.news12.com/port-jefferson-high-school-alumni-star-athlete-passes-away-at-19

https://247sports.com/college/alabama/Article/Alabama-Crimson-Tide-Basketball-manager-Charlie-Wilson-dies-unexpectedly-188220574/

https://www.si.com/college/2022/06/03/dayton-shares-statement-on-death-of-coach-anthony-grants-daughter

https://www.msn.com/en-us/news/us/baltimore-city-public-schools-student-dies-while-on-field-trip-in-cecil-county/ar-AAY0XGI?ocid=msedgntp&cvid=4e8f9118e2f5462dfcf6d6b2b1a652e8
That's just the tip of the iceberg.
The aforementioned links don't include two professional athletes to pass away in their 20s this week.
NFL Linebacker Jaylon Ferguson Passes Away Mysteriously at 26
Former Purdue Boilermaker & NBA 1st-Round Pick, Caleb Swanigan, Dies at 25
The CDC and FDA will never investigate these tragic deaths.
Because they're drenched in corruption and funnel never-ending profits to the pharmaceutical companies.
Whatever they say, you're better off doing the exact opposite.
Kirsch summarized by saying:
There is no question that young people are dying in their sleep at an extraordinary rate never seen before. In the last year, I know of at least 8 such cases. I've never heard of this happening before and I'm 65 years old.

The CDC isn't going to investigate this since it is now normal for this to be happening starting in 2021. What's to investigate?

Besides, even if they did investigate, they wouldn't be able to find the connection because the vaccines are like Teflon: nothing sticks.

According to US Congressman Sean Casten, the only lesson we should learn from these deaths is to "savor the moments you have with your loved ones." Presumably, he said that because calling for an investigation into these deaths would be inappropriate since it would reveal the enormous amount of corruption that is happening within the HHS agencies and within Congress itself for not calling for an investigation.

Now you know why I will never get a job offer from the CDC. All jobs at the CDC require that "Applicants must NOT possess any critical thinking skills."