Idaho gubernatorial candidate Ammon Bundy vowed to help cover the moving costs of liberals who said they'd leave the state if he's elected.
Bundy's new ad features him and a U-Haul moving truck.
"Idaho liberals say that if I'm elected as governor, they will leave the state," Bundy states in the ad.
"Well, I'm here to tell you that when I'm elected governor, Idaho will help pay for their moving costs — after all, it's cheaper than keeping them here."
WATCH:
FOR IMMEDIATE RELEASE
OCTOBER 25, 2022

Official Statement from Ammon Bundy pic.twitter.com/mH5Oi9NaPv

— Ammon Bundy (@RealABundy) October 25, 2022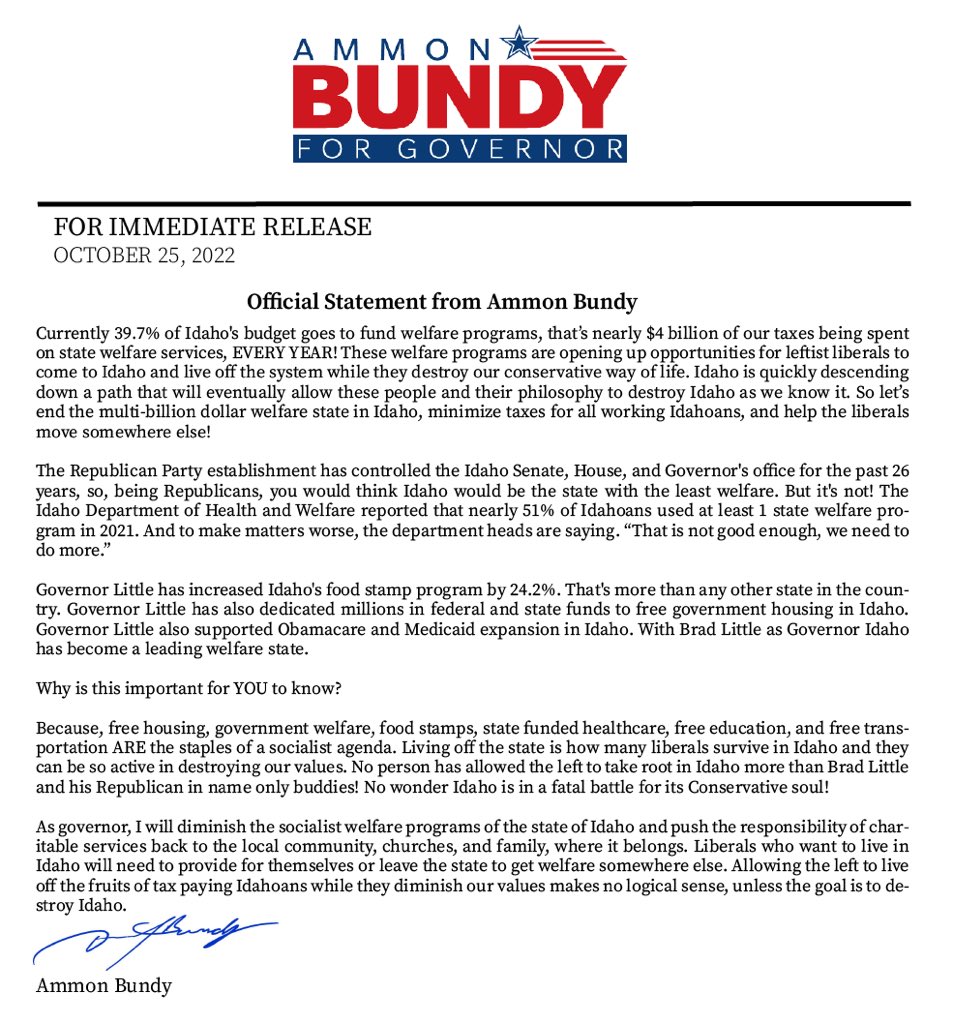 "Idaho spends nearly 40 percent of our annual budget on welfare programs. That's almost four billion of your tax dollars going up in smoke every year," Bundy explains.
The Gateway Pundit reported:
"As governor, we will be getting rid of property tax, income tax, and your grocery tax," Bundy said.

The candidate asserted that he will balance Idaho's budget by ending the welfare state.

"Idaho isn't California, and if liberals have a problem with that, then we will help them move there," Bundy continued.

The ad concluded with Bundy winking and saying "no one is saying you have to leave, but if you're going to stay here, you have to work like the rest of us."

Bundy rose to fame in 2014 during a land dispute culminating in an armed confrontation between law enforcement and his father's supporters, cattle rancher Cliven Bundy. He made global headlines again in 2016 for his involvement in the standoff at an Oregon wildlife refuge.
In another recent campaign ad, Bundy pledged to end the "perverse assault on our children" by "all means necessary" on day one.
WATCH:
Silence is no longer an option. As governor of Idaho, I will put an end to this horror on day one #KeepIdahoIdaho 🇺🇸 pic.twitter.com/VSY4DobyRC

— Ammon Bundy (@RealABundy) October 4, 2022
"Something is happening across America, and it isn't isolated to California, New York, or Washington, DC," the ad begins.
"It's in our classrooms, it's in our libraries, it's online, it's in our streets, it's in our parks — and it's happening right here in Idaho."
"Our children are being groomed," Bundy says after footage shows clips of children with drag queen performers.
"My name is Ammon Bundy, and when you elect me governor of Idaho I will protect our children and use all means necessary to keep them safe from this perverse sexualized ideology," Bundy says.
"It's time Idaho puts groomers where they belong," he adds.