On Monday, Missouri Attorney General Eric Schmitt released the full transcript from Anthony Fauci's deposition.
Fauci was deposed as part of an ongoing federal lawsuit challenging the Biden Administration's violations of the First Amendment in targeting and suppressing the speech of Americans who challenged the government's COVID-19 narrative.
Schmitt tweeted these highlights from Fauci's deposition:
According to the transcript, Dr. Fauci said "I don't recall" 174 times, including when asked about emails that he sent, interviews that he gave, and other important information.

— Eric Schmitt (@Eric_Schmitt) December 5, 2022
One of Fauci's deputies joined a WHO delegation to China in February of 2020, and in talking to Fauci afterwards, was impressed with how the Chinese "were handling the isolation, the contact tracing, the building of facilities to take care of people.." pic.twitter.com/6uxlxEpFxX

— Eric Schmitt (@Eric_Schmitt) December 5, 2022
Techno Fog noted these highlights in The Reactionary:
EcoHealth Alliance – the Peter Daszak group – is knee-deep in the Wuhan controversy, having been funded by the Fauci's NIH for coronavirus and gain of function research in China (and having worked with the Chinese team in Wuhan). What does Fauci say about EcoHealth Alliance? Over two years after the COVID-19 pandemic began, and after millions dead worldwide, he's "vaguely familiar" with their work.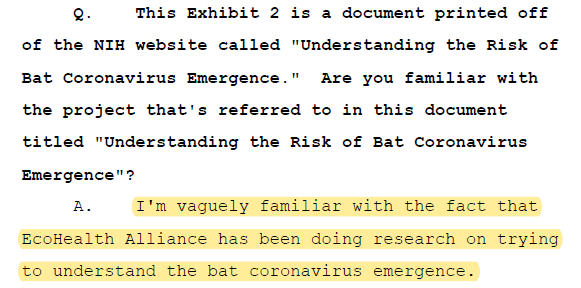 In early 2020, Fauci was put on notice that his group – NIAID – had funded EcoHealth alliance on bat coronavirus research for the past five years.

This coincided with early reports – directly to Fauci, from Jeremy Ferrar and Christian Anderson – "of the possibility of there being a manipulation of the virus" based on the fact that "it was an unusual virus."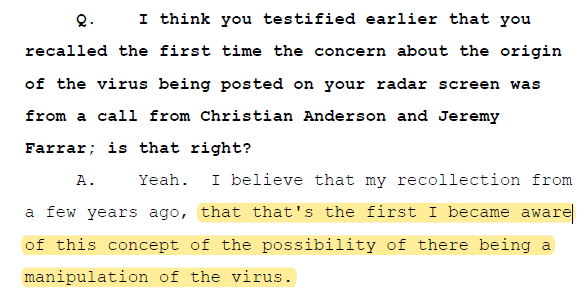 Fauci conceded that he was specifically made aware by Anderson that "the unusual features of the virus" make it look "potentially engineered."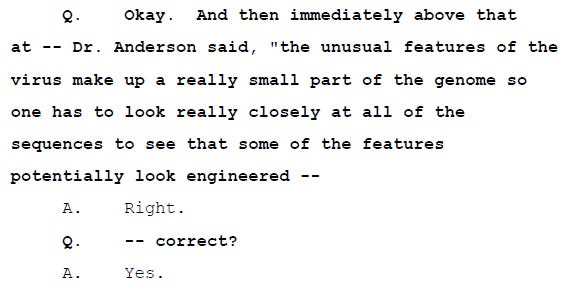 Fauci couldn't recall why he sent an article discussing gain of function research in China to his deputy, Hugh Auchincloss, telling him it was essential that they speak on the phone. He couldn't recall speaking with Auchincloss via phone that day. But remarkably, Fauci did remember assigning research tasks to Auchincloss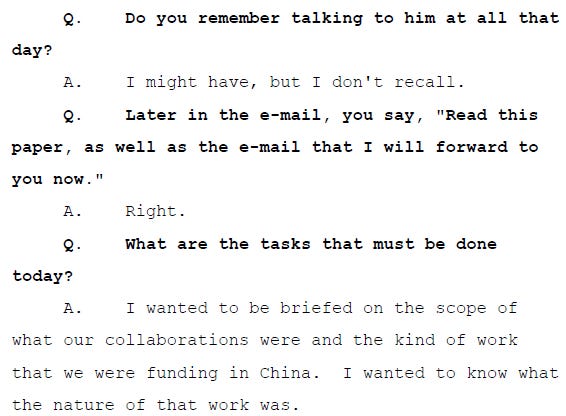 *Images from Techno Fog*
Read Anthony Fauci's full deposition HERE.